Regular price
₹ 1,195.00
Sale price
₹ 999.00
Unit price
per
Sale
Sold out
Share
PRODUCTION: Matratva Wild Forest Honey is collected from the wild forest of India by the native dwellers who are passionate about bees and can meet our high standards for providing pure honey which is free from pollution, pesticides, and other chemicals. Matratva's 100% Pure, Raw & Unfiltered Wild Forest Honey is unadulterated. We do not dilute or add anything to our honey.
BENEFITS OF RAW HONEY: Raw honey has been used as a folk remedy throughout history and has a variety of health benefits and medical uses. Raw honey is loaded with antioxidants, living enzymes, vitamins, minerals and is used in medical settings to heal wounds because it is found to be an effective germ killer. Raw Honey is also an old sore throat remedy. Add it to luke warm water with lemon & ginger juice, when cold hits you.
FLAVOUR NOTES: The richly herbaceous, yet mildly earthy aroma carries organic floral sweetness. Our organic raw & unfiltered honey blend is crafted for exceptional taste.
USES: Use Matratva Wild Forest Honey as a natural sweetener, drizzle it on breakfast cereals, on smoothies, on yogurt, and for salad dressings.
PACKAGING & STORAGE: This honey comes in a 500 gm/1 kg Glass Jar which can keep the content fresh for a very long time. Due to cold weather in some regions natural honey will crystallize which is actually a normal process (this happens because of the glucose & fructose present in the honey), just place the jar in warm water or under the sun and make it liquid again.
View full details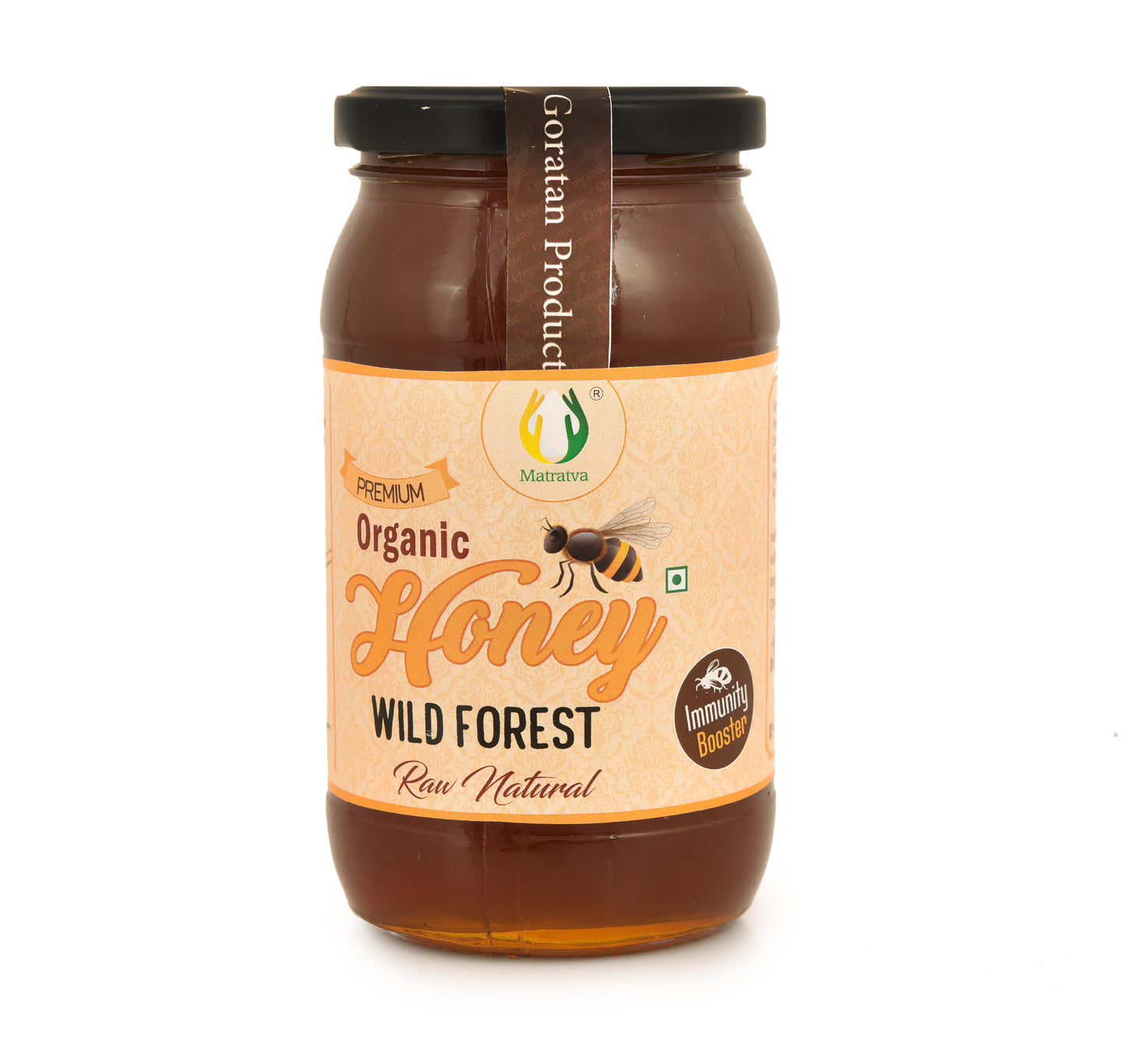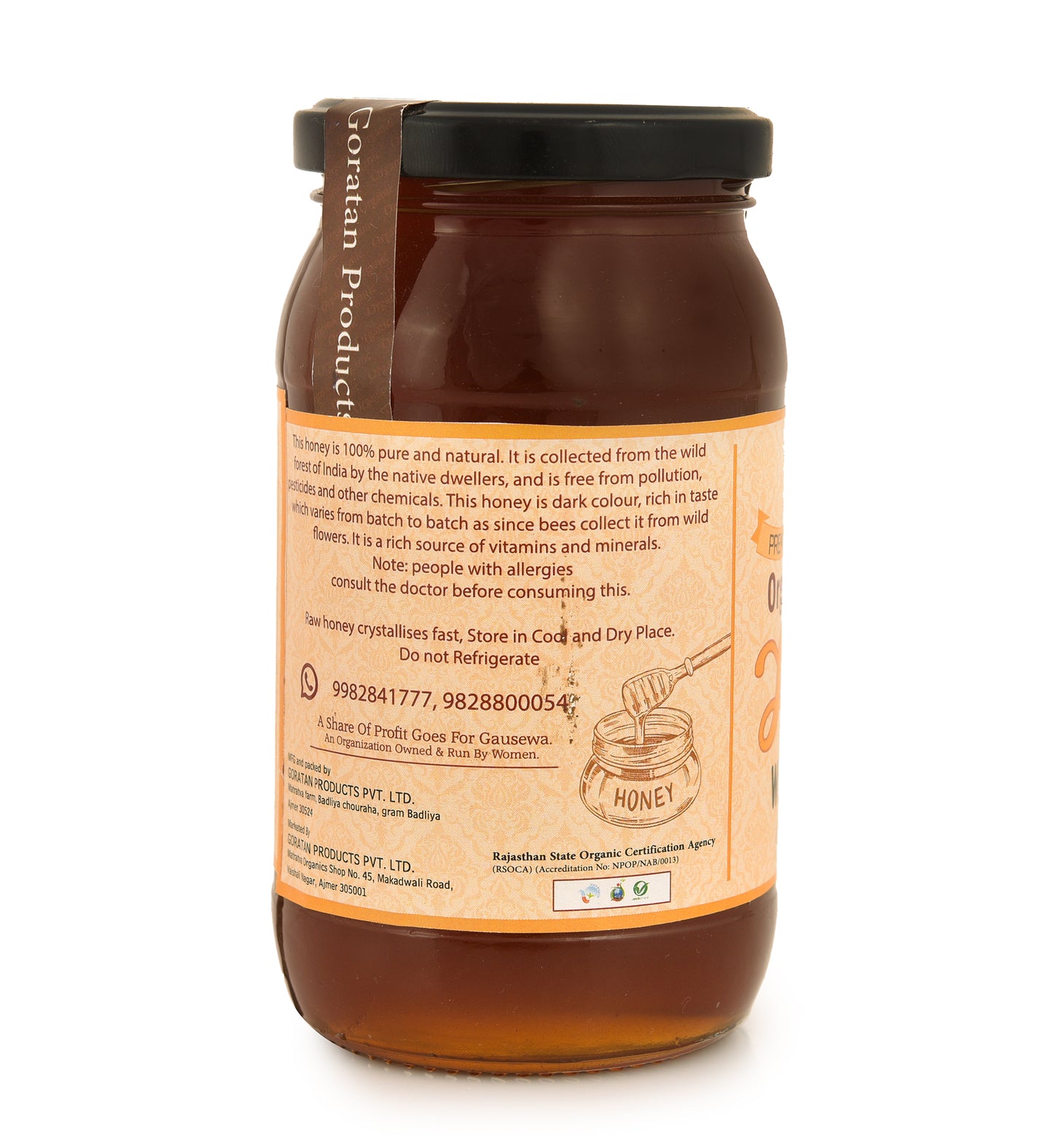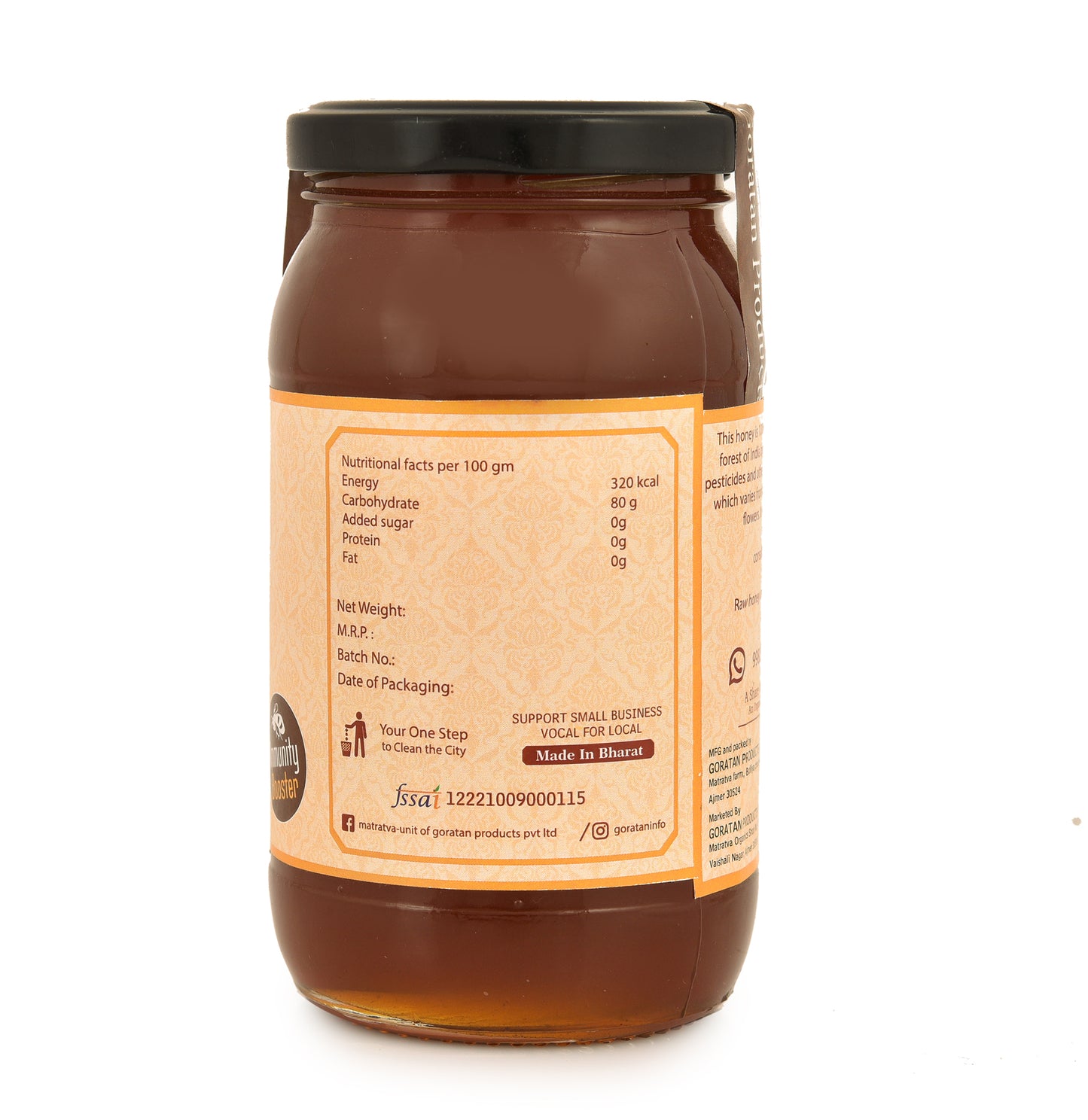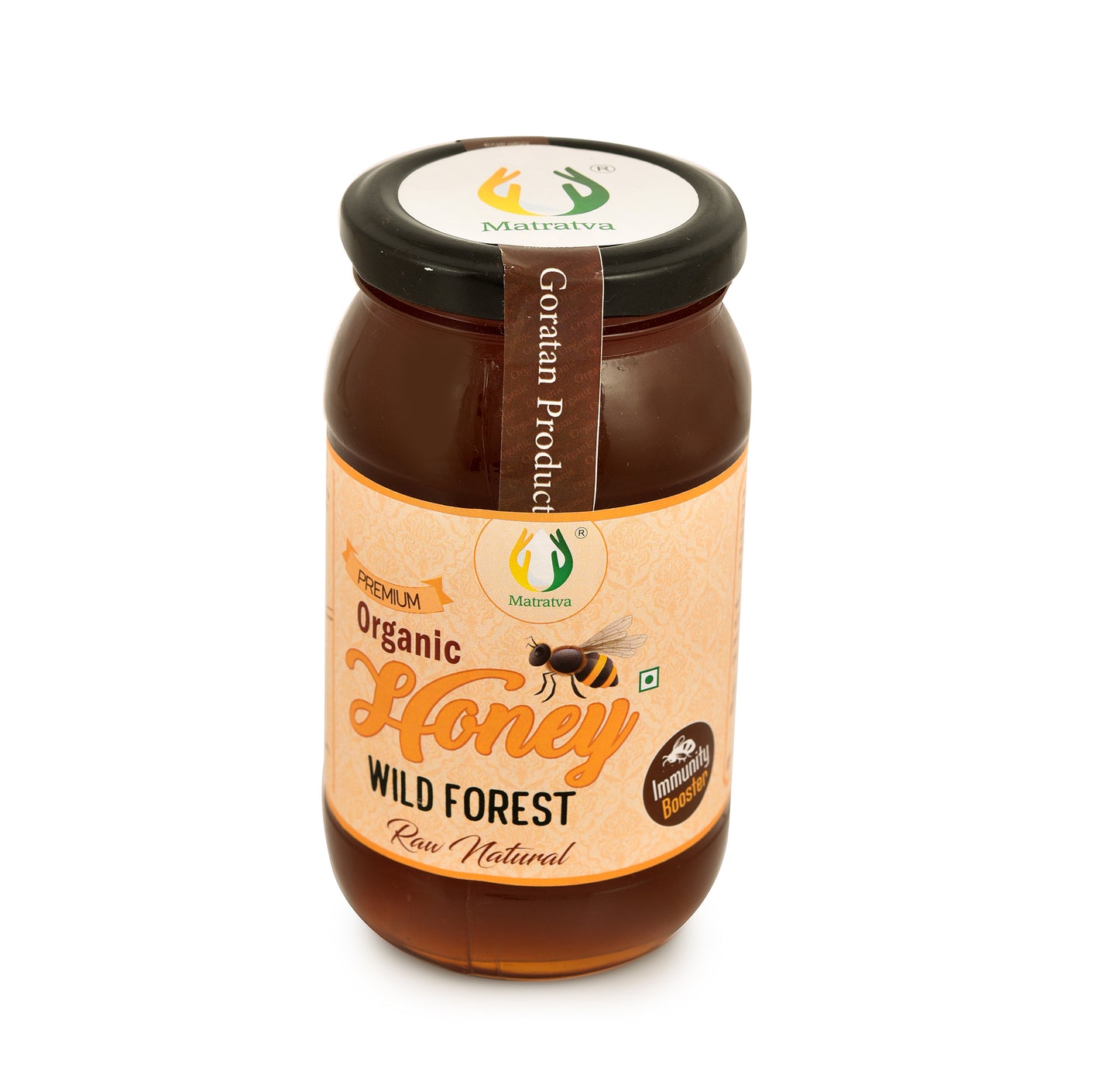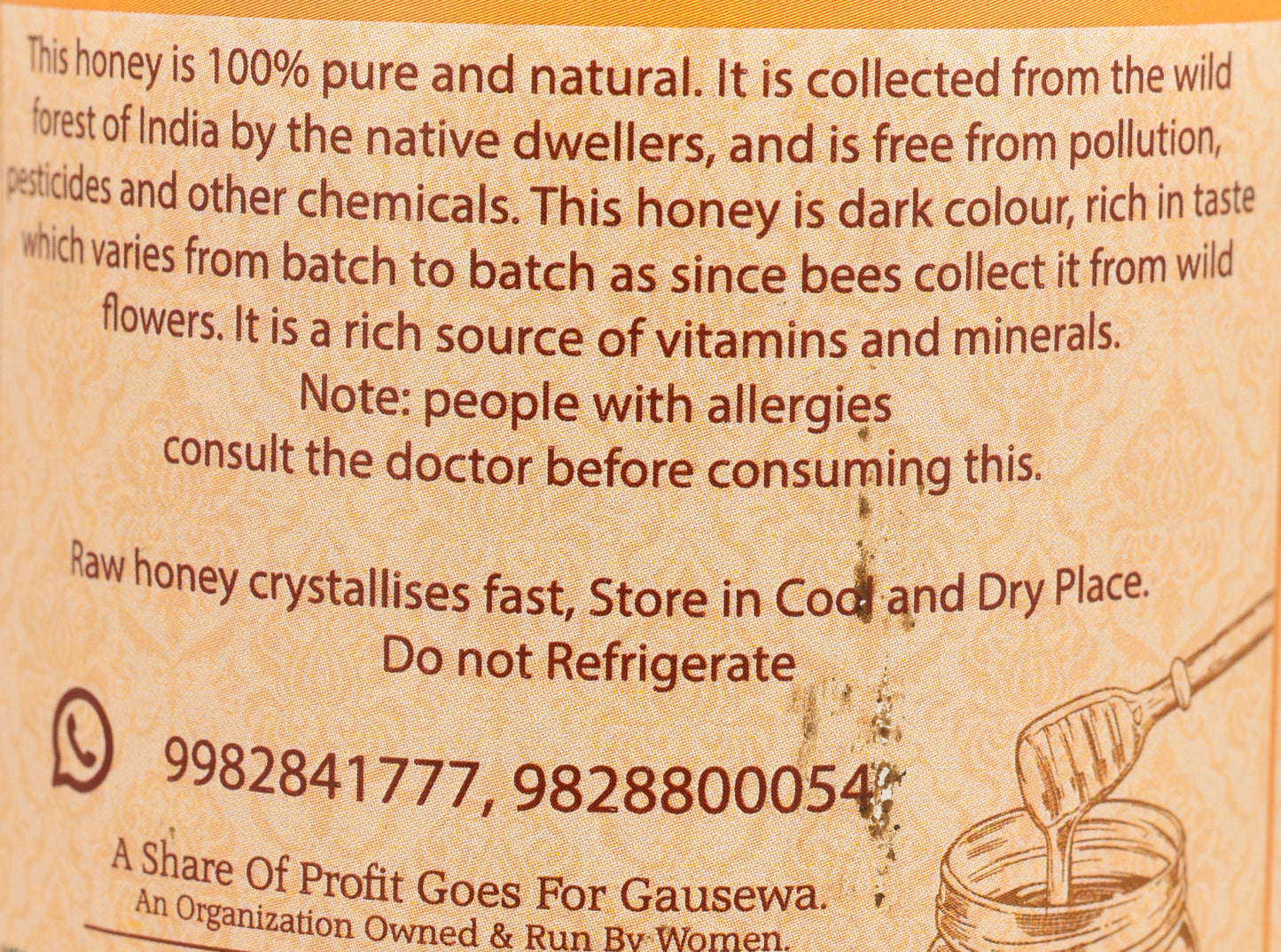 Know the Facts
Is it safe to eat crystalized honey?

Honey has long Shelf life but it should not be stored in refrigerator.

It granulates in lower temperatures, it is a natural process and does not change the taste and quality.

To liquidify honey place the jar in warm water.

Sustainable Packaging

The first step to saving the planet is to start recycling and using sustainable material

We use foid grade glass jar to keep the real taste intact.

It limits the use of resources significantly. It positively impacts and supports our business goals.

No Bees, No Life

Bees directly or indirectly impacts everything around us, it will adversely affect the global economy if there are no bees.

We would definitely loose many of the foods that make our diets vibrant, healthy and nutritious.